In this guide, we aim to help you further understand the various method as to how to print wedding invitations, answering all the questions you may have. We hope to inspire the fire within you and help you create the most special invite available for your big day!
When planning for your big day, there is so much to think about. From experience, many people find invitations and printing such as this very time consuming, as they have larger worries to focus on. They find it best to leave jobs such as this in the hands of the experts, so they can focus on the larger tasks at hand. No matter whether your wedding is close or in the distant future, we believe we can help you today!
Luckily, as specialists in printing, we are here to assist. We understand that wedding prints need the upmost care, as we have had years of experience in the area. Luckily, when it comes to this we can help you find the correct printing method you are looking for, above all else! We print a wide range of wedding invitations and themes which can all be found HERE.
How To Print Wedding Invitations:
Set a date for your special day? Are you looking to invite those close to you in a way that symbolises you. Whether your planning to invite loved ones to your own wedding, or planning a wedding for somebody else, we could all use a little inspiration to get started.
First things first, when starting the wedding invitation process, you will need to located your sought after design. Relying on your chosen styles and themes, it is best to find a design that works within
Once you have located your desired design, before you get started printing Wedding invitations, you will need the following info about the day before going to print:
Names of both the Bride and Groom.
Venue and location of your wedding.
Date of your special day as well as time.
A personalised invitation message welcoming guests.
Reception information for celebrations.
RSVP details to gather numbers.
Photographs of the happy couple if any.
To help check invitations of your long-lined checklist, here are four wedding print suggestions to help make your big day stand out:
1. Standard Bespoke Wedding Invitations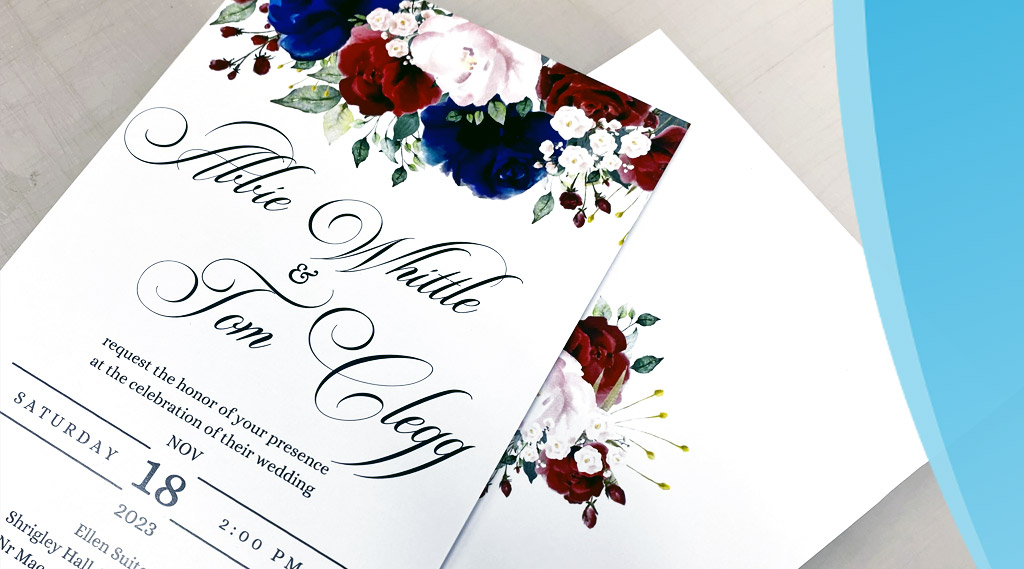 The simplest, most common form of wedding invitation printing around. A standard bespoke wedding invitation is a straightforward method that focuses on the theme of your wedding with no extra steps. Simply include all the information centering around your big day and hand your invites out to those around you.
Personally, this method is for those looking to reduce complication when printing their invites. Focusing more on the details within your design, this method is cost-efficient for those with big plans for their big day. Also, this method is also perfect for those looking for quick and efficient invite printing, with dates set in the near future.
This method does not reduce in quality however, as each method centres on printing onto the highest quality material around! With your standard bespoke invite printing, a big focus when looking at this item is the paper type, as the simplicity of this product allows for the widest range of material for printing. From your standard Silk/ Uncoated cards, to unique materials such as Rives Shetland or a Kraft Lux.
2. Folded Wedding Invitations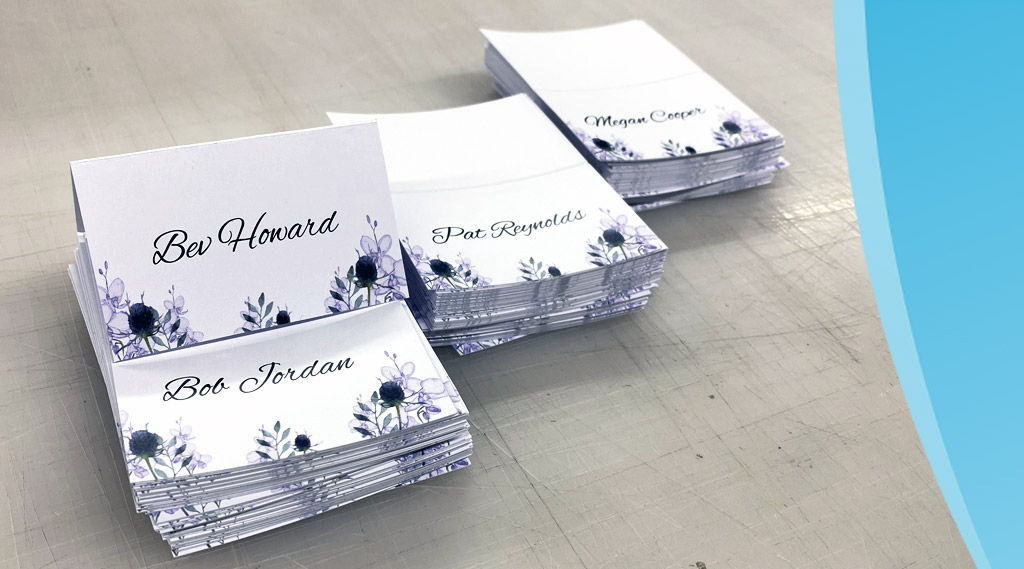 Another great method to create a unique wedding invitation would be through the use of folding. Using a folding machine, which is commonly used for items such as greetings cards or leaflets, your invitations are given added depth.
No matter the size, we can fold your invitations as requested, allowing for special messages to be hidden from within. Using this technique allows you to personally individualise each invitation, adding a distinct custom message for each invitee. Simply create a double sided invitation of any size and fold it down the centre to create a beautifully unique call to your big day.
Furthermore, as these messages can be much more personalised, this method also allows you to print wedding photos that are distinct to your invitee. Include recollections for each and every individual you plan to invite and create a unique invite for every attendee.
3. Bespoke Finish Wedding Invitations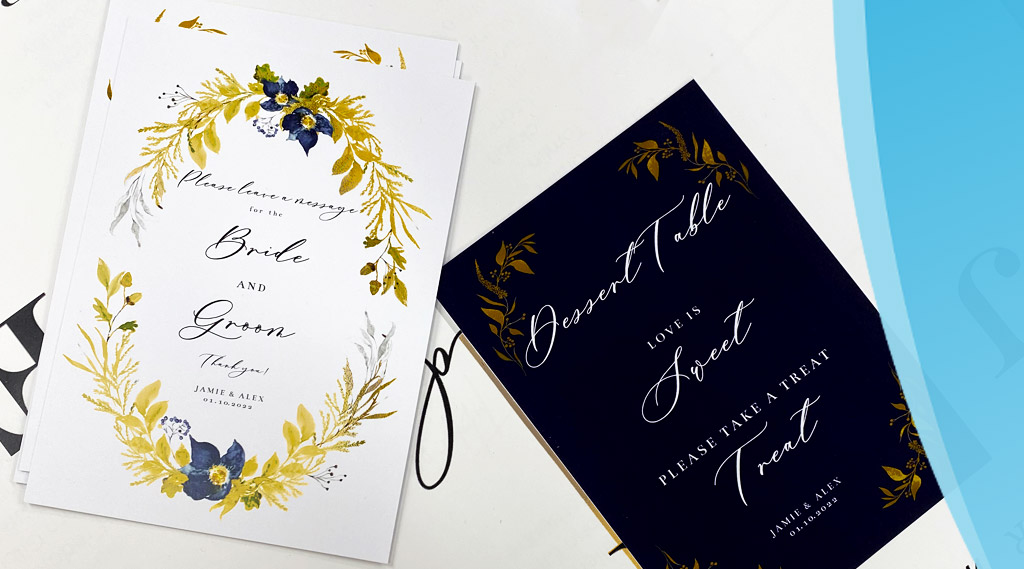 A bespoke finish is another great way to add that extra bit of detail to your invitations. A distinct finish helps to create a layered look upon your final wedding print. These methods are often added post print to create added quality upon your final wedding print design. There are a wide range of methods to choose from when thinking about a bespoke finish! Some being a final finishing touch and some requiring totally different, unique machinery.
For example, a great way to add a bespoke finish to your Wedding Invitations is through the use of foiling. Foiling helps to cerate a shimmer like no other, adding a second layer to your invites through a foiling machine. Foiling can be used with many colours such as your regular silver and gold, or more traditional colours such as red, blue, green etc.
If you are looking to add glimmer and gleam to your wedding, or looking to match the aesthetic you are looking for on your special day, you will find no better than a bespoke finish such as this.
4. Magical Wedding Invitations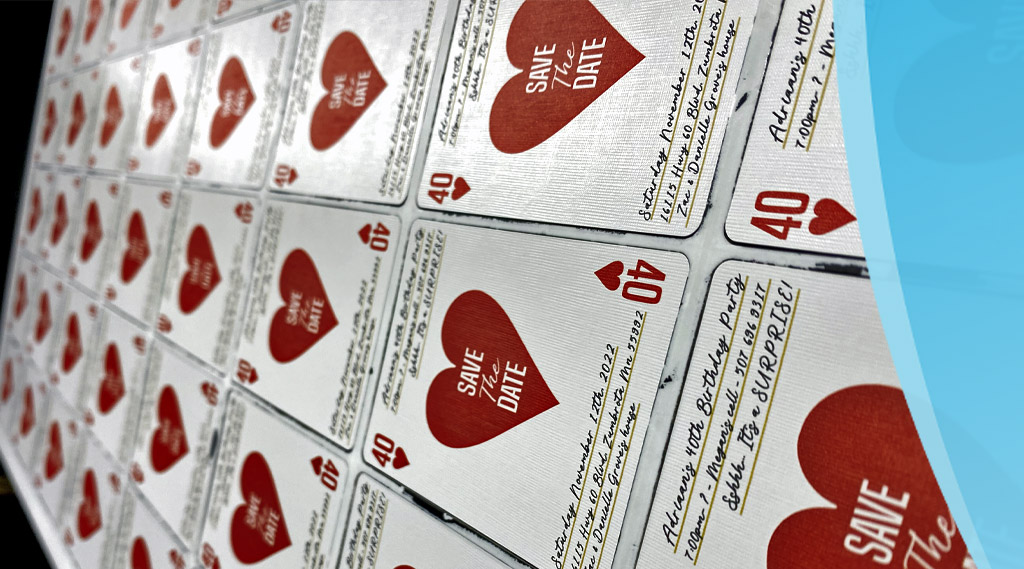 We are adding a little magic to our last suggestion, with our save the date playing cards, fully persoanlised for your big day! This item is best for those with a passion for all things magical. Looking to use Playing Cards to invite your loved ones to you special day in a way that best symbolises you? This option is one you should definately take a look at!
Anything is printable on playing cards, from wedding photos to special messages! We can add a touch of magic to your big day, printed onto the best of the best Bicycle playing cards, with a choice of red back, blue back and blank back cards!
Your heard that correctly, these playing cards are printed onto Bicycle, the top choice of playing card. These save the date cards are UV printed onto the face of a blank back deck of Bicycle Playing Cards. These cards come with the well-known shuffling quality that Bicycle is known for! This allows you to invite those around you with your own specialised magic trick, performed by you! Slip this card within a regular deck of cards! Or rather, create your own gimmick to invite those around you to your big day simply with this set of playing cards.
Thanks For Reading!
Thanks for reading our 'How To Print Wedding Invitations'. We wish you and your dearest the very best on your special day! Send us a quote If you are interested in printing any of the options we have listed above, or check out our Wedding Print Section! So, many options and themes available for your before the day, on the day and after the day wedding requirements.
Alternatively, send us a detailed email through info@printbymagic.com or contact us directly on 0161 464 4304 or visit us HERE. 
If you are looking for more printing related information and inspiration, be sure to visit some more of our motivating blogs and learn more about the topic of printing and the services we offer.