At PrintbyMagic, we understand that business cards are the top choice for those looking to broadcast information about their business. Within this article, we aim to answer the question "what size is a business card?" in ways that will better your understanding and find the perfect solution to help market your company today!
Fundamentally, business cards are printed at a standard credit/ debit card proportions, making the perfect compact handouts! Printing at this size means your business cards are guaranteed to fit into any wallet or purse. Therefore, this allows you to carry information about your business anywhere at anytime, without the need to travel large.
So, What Size Is A Business Card?
Business cards can be printed at a wide range of sizes, be sure to follow the list below to make sure your business card is the best size for your business.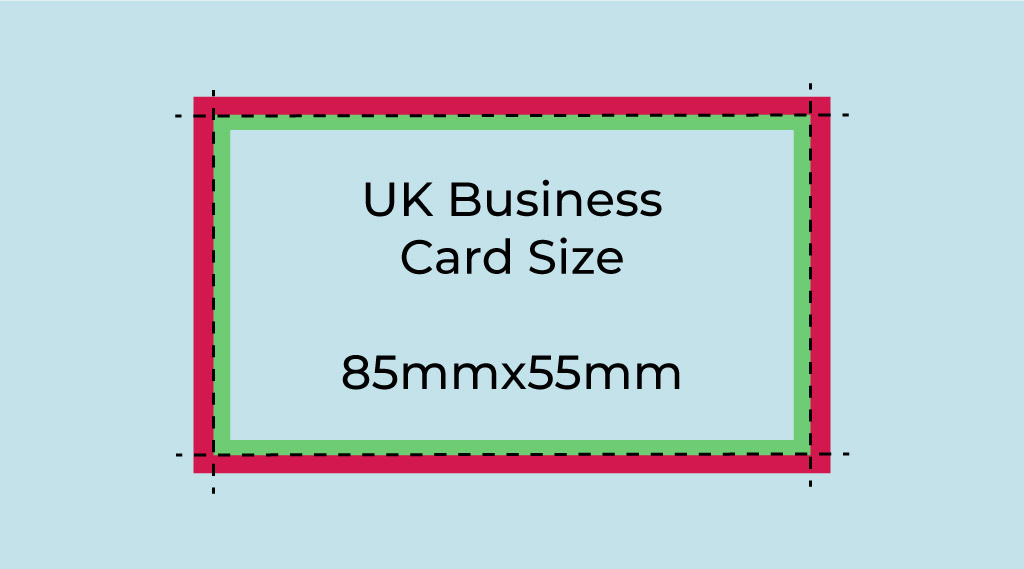 UK Business Card Size:
Our standard print Business Cards printed in the UK come with a standard area of 85mmx55mm (3.4 x 2.2inches.) These dimensions are the common proportions used within our website and are setup within our online designer! This card size is also the standard for all West European countries.
Each design also comes with a bleed area of 3mm on each side, we recommend that you use a bleed when designing your business cards, using the total area of 91mmx61mm (3.6×2.4inches.)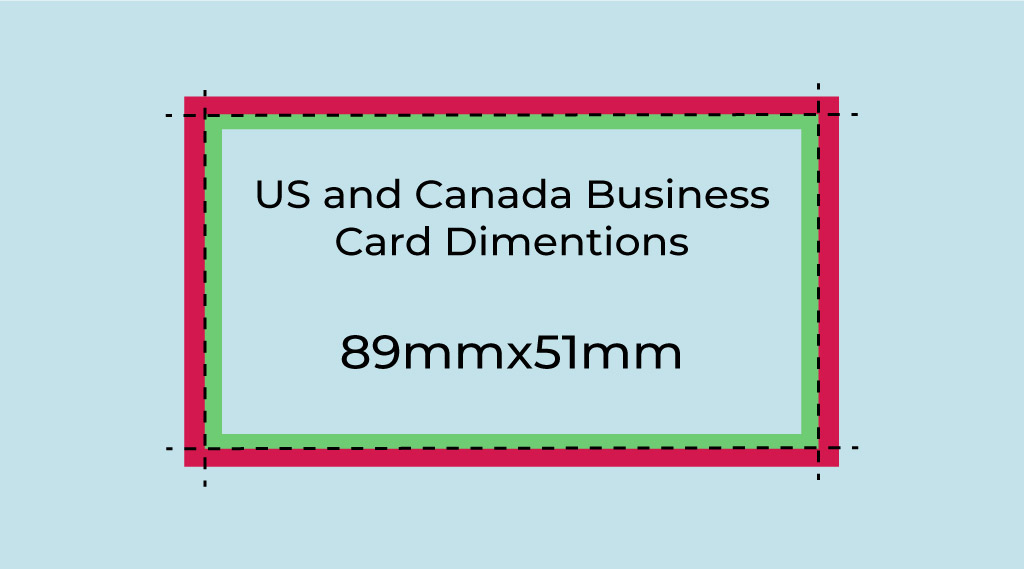 US and Canada Business Card Dimensions:
In the US and Canada, business cards are printed slightly slimmer yet longer, when compared to many other countries, making for more layers from top to bottom within your business card and allowing for more paragraphs rather than dotted information. Business cards in this area have dimensions of 89mmx51mm (3.5x2inches.) With a bleed area, we reccomend this sized card is printed at 95mmx56mm (3.7×2.2inches.)
If you require business cards printing at this size or any of the following sizes contact us. We aim to provide business cards for all, so we will be happy to help!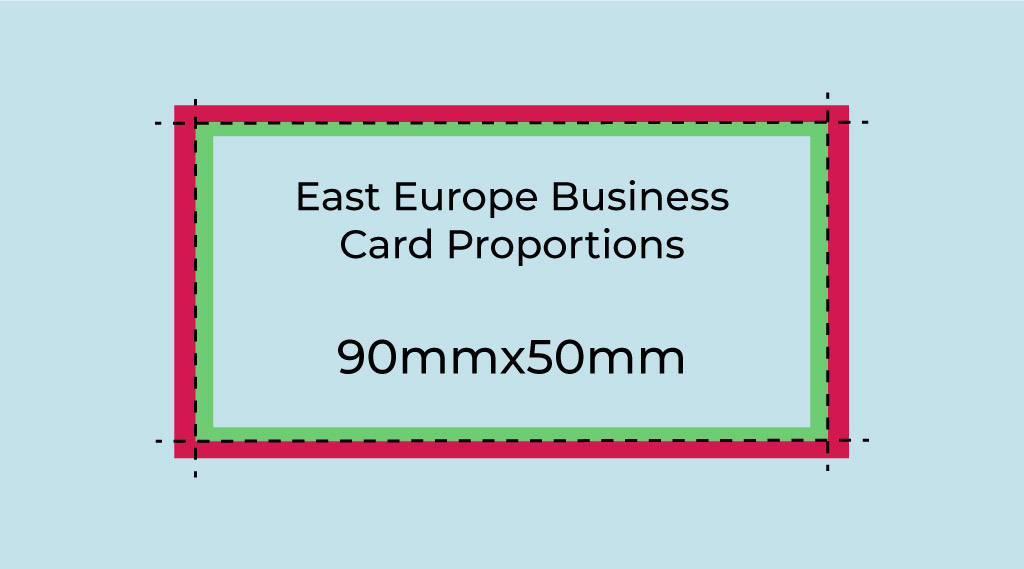 East Europe Business Card Proportions:
In East European Countries, business cards are printed at an even larger width compared to the previous two varients. These business cards are printed at 90mmx50mm (3.6x2inches) which slightly differs to the previous US and Canada business cards.
As stated previously, we reccomend that you add a 3mm bleed to these business cards to ensure your design runs to the edge of the print. The bleed should run to 96x56mm (3.8×2.2inches) to ensure no white space is left behind.
Full List Of Proportions: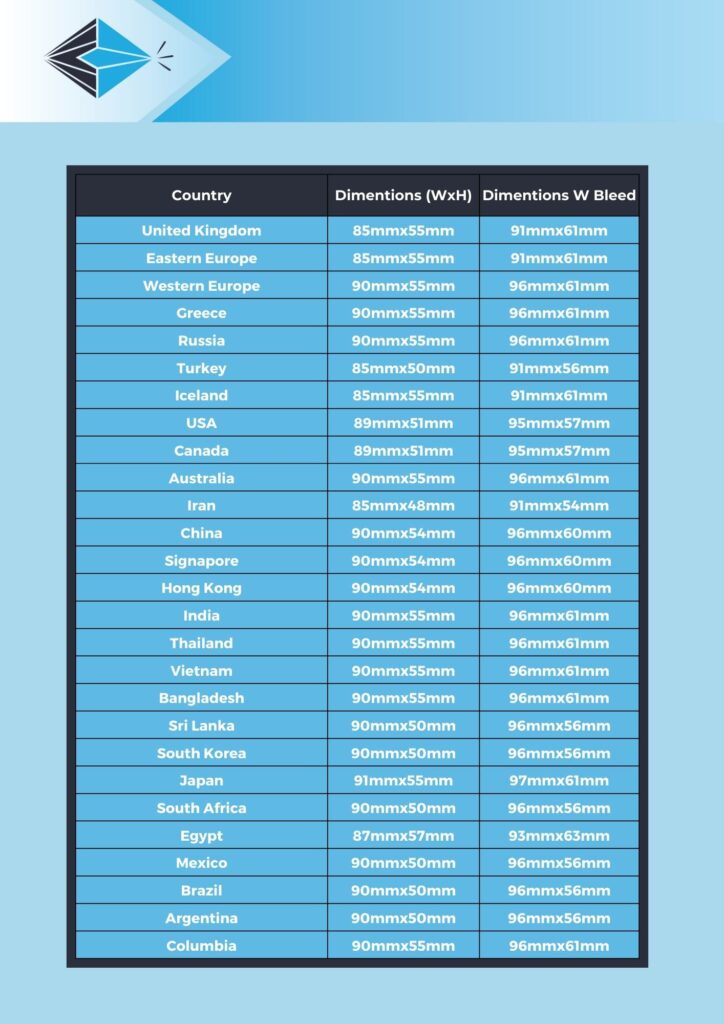 Our 5 Tips For Business Card Printing:
1.Be Unique and Creative:
When it comes to business cards, you want to leave a long-lasting first impression upon handout. The best way to do this is through creating a vibrant, well-designed card that is straight-forward and lets your target audience easily know about you and what you plan to do. Creating a unique business card makes you differ from your competitors and helps to distinguish your company. One example would be to print on a different looking business card such as our square business cards.
We suggest you use our online designer to help create the perfect business cards to build your brand image.
2.Print Your Business Cards Double Sided:
When looking at a business card, your aim is to show your audience what you are about, while being easy to read and not overcomplicating your audience. If you plan to display a lot of information on your personalised business cards, it is recommended that you display this text on both sides of your business cards to broaden your layout and keep things simple to the viewer. We offer double sided printing on all of our business cards on site with just a click of a button!
3.Think About Printing Options:
From Gloss/ Matt Lamination, to UV Spot, each finish option helps to make your business cards differ and suit you. For example, a gloss finish helps to give your cards a shine that will dazzle in front of your viewers, creating a bubbly aura and leaving viewers with a good first impression of your company!
4.Importance Of Font:
Fonts can be a very important part of a business card. They can help to set the tone of your company, and can also be used to make a statement about you in comparison to your competition. For example, a business card with a lot of information might use a sans serif font to make it easier to read, while a more formal card might use a serif font. Be sure to use a consistent font throughout your business card which matches the tone your company is looking for.
5. Re-read your information:
Whether your uploading your design yourself, or we have designed the cards for you. It is always a great idea to go over and review your information before printing, as the last thing any of us want is for a small mistake creating negative connotations towards your business. Be sure to read all information on your cards to ensure that things such as emails, phone numbers of company information are correct and you are happy to go to print.
We would even highly recommend getting a second review from someone close to you, which could be a family member, partner or even co-worker. Two opinions is always better than one!
Need A Design To Kickstart Your Business?
At PrintbyMagic, we have expert designers at hand that have experience in fields such as Illustration, Graphic Design and Photography. Our team always jumps on the chance to be creative as we love helping our audience every step of the way until you receive the final printed product. We can print onto any item you see on our site, and relish the opportunity to produce your dream print. Be sure to take a look at our design page for any information you may have regarding our personalised process!
Need Some More Help?
Thanks for reading our 'what size is a business card' blog, we hope you are now fully aware on the perfect sized business card for you! Send us a quote and let us know about the perfect business card to promote you and your company now. Alternatively, send us a detailed email through info@printbymagic.com or contact us directly on 0161 464 4304 or visit us HERE. 
If you are looking for more printing related information and inspiration, be sure to visit some more of our motivating blogs and learn more about the topic of printing and the services we offer.